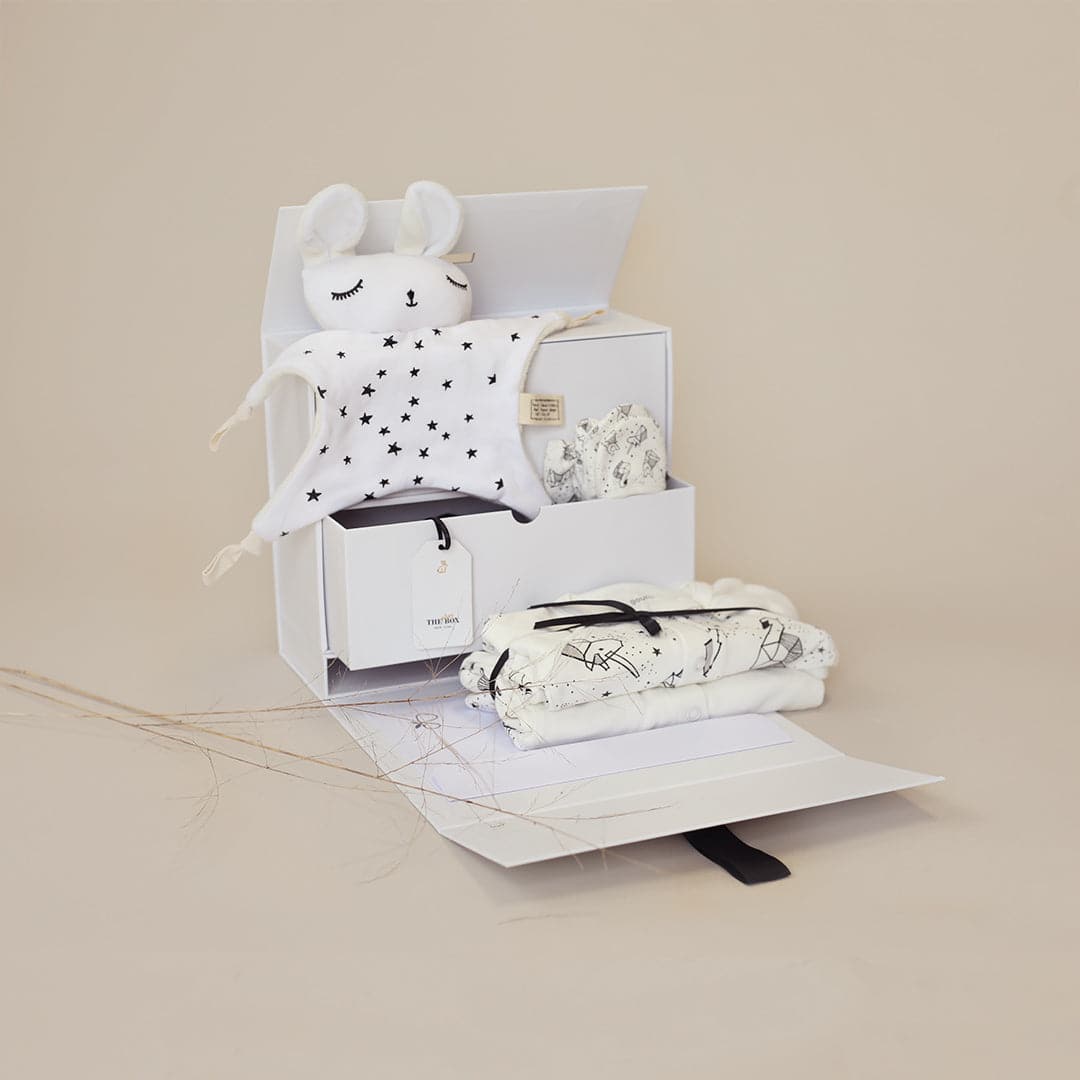 TheBabyBox Pregnancy & Newborn Gift Box
Free shipping for all orders
Live customer support during business hours.
Who is this for?: your designer obsessed, expectant girlfriend; your sweet pregnant daughter, that mom at the shower who already has all the baby clothes, your expectant co-worker

What's the occasion?: This beautiful baby gift box is just perfect for newborn gifting, baby shower or first time you see baby!
What's inside?: The ultimate babywear starter collection is not only soft as butter, but also cleverly printed with a high-contrast, black & white design on the back of the mitts to stimulate infant eye & brain development. But really, it's our plush bows and stunning designer look  that will wow her!
Overall Gown; by Goumi + Wee Gallery: Quickly change from open-bottomed gown to closed sleeper by flipping the bottom pocket. Super convenient for easy diaper changing. Integrated goumimitts can be opened or closed using the sleeve flaps. 
Coverall; by Goumi + Wee Gallery: Integrated bum flap for easy diaper changing. Integrated mitts & booties can be flipped open or closed. 
Goumimitts; by Goumi + Wee Gallery: Stays on thanks to a two part closure system, ensuring scratch & germ protection & allowing an adjustable fit as baby grows.
Booties; by Goumi + Wee Gallery: Sturdy grip for first steps, while being warm & cozy on little toes. 
Cuddle Bunny; by Wee Gallery: This adorable little sleeping bunny will definitely be one of baby's treasured first friends. 
Magnetic Smart Box; by Goumi + Wee Gallery: Items come packaged in the smartbox, which opens to reveal one shelf & two drawers. This can conveniently double as hanging nursery decor & storage by utilizing the grosgrain opening latch as a hang flap.  
Curated Selection
Every gift box contains a handpicked selection of the finest products, ensuring quality and excellence in every box.
Packaged with love
We believe that gifts are like people. Infuse them with love and they will transform into something beautiful.
Hassle-free
Select. Send. Smile. It's that easy.
Our past clients